Chapter has a great weekend at Canal Days
In an effort to further spread awareness and grow the local chapter, Greater Rochester and the Finger Lakes chapter manned a booth at the 2015 Fairport Canal Days festival in Fairport, NY. We had a good level of interest from school professionals - teachers, psychologists and counselors - from Rochester, York, Spencerport, Webster, Fairport, Williamson and Oswego to name a few. A physician's assistant from Olean, NY, a young lady with Tourette from Seattle, WA, and a teacher from South Carolina also spent time talking with us at the booth. National helped enormously with the loan of a banner with the new logo and quite literally boxes of materials (CDROM's, DVD's, and brochures) for giving out to interested parties. We also
had a good supply of the new "giveaway" items which helped draw initial attention for some people.
A special thanks to non-board members for giving up personal time. Dr Mink and Dr Adams (pictured left) from Child Neurology at Strong Hospital, and my son Will Wainwright, our current YA, all participated in running the booth. We were visited by many people with specific questions or general interest, from family members of those with Tourette, coworkers and friends, medical and education professionals and even a few newly diagnosed within our catchment area that signed up for email. Several adults with Tourette also stopped to offer words of encouragement, praise or thanks for us being there.
Thanks again to all that helped make this, our first public festival event, such a great success.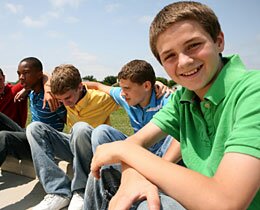 "As a teacher, I possess a tremendous power to make a child's life miserable or joyous. I can be a tool of torture or an instrument of inspiration. I can humiliate or honor, hurt or heal."Haim Ginott